Let me just tell you: this was really hard! I worked hours and hours on it. I hope you guys like it! All the moods are not perfect but I go back to school tomorrow so I wanted to get this done. =)
if you want a quicker way to apply this them then download this and go here and follow the instructions.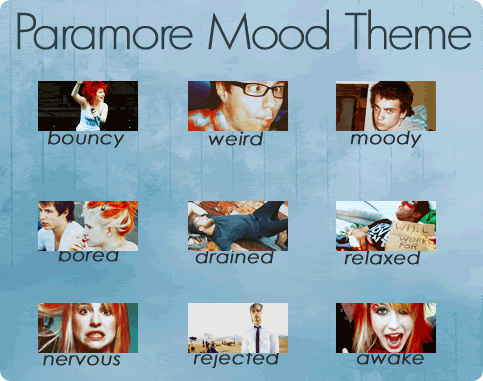 Instructions on how to use my theme:
1.
First you need to make sure you have a plus account or higher. To do this click
here
its free, so no worries
2.
Go to Go to 'Journal' then click 'Customize Journal or just click
here
3.
Go to the 'Edit/Create Custom Mood Theme' page. Type the name of your mood theme into the field and select Create. I put paramood but you can name it whatever you would like
4.
Uncheck all the 'inherit from' boxes before going to the next step
5.
Now go to
this photobucket
and copy and paste the url's into the field.
NOTE: the order of the moods in the photobucket is the same so you wont have to look for each one, its all in order to make it quicker. =)6.
Make sure for every single mood that the width is 100 and the height is 50
to credit copy this code onto your profile

Current Mood:
peaceful